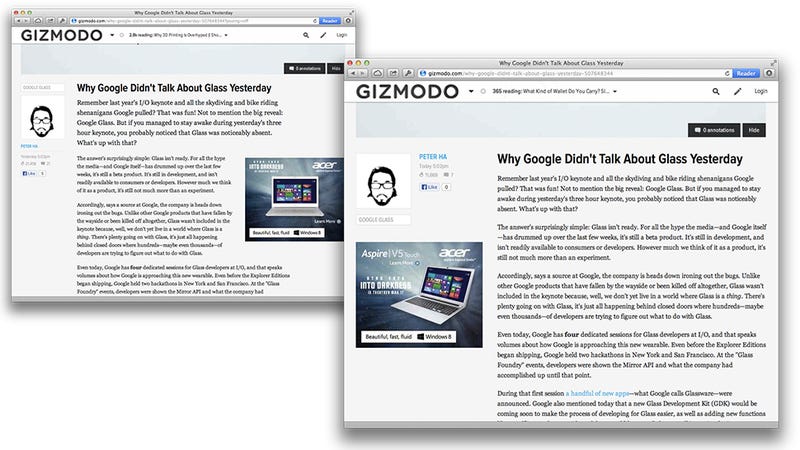 We made some updates to post pages to clear out the content area which will allow us to improve discussion features down he road. Here are the updates:
The ad unit is moved out of the content area and into the left column. Having ads and other content pushing into the text area has always made creating nice looking posts challenging. Because different sized ads are displayed (300x250s or 300x600s), any images, text, or insets toward the top of the post would get pushed around depending on the size of the ad. Even in our previous design, we had similar challenges. So, we took the ad out of the layout equation and moved it to the left column.
If a post has links to other Kinja sites (both our editorial sites and individual Kinjas), a strip of stories will be generated along the top of the post.
Related story blocks, which were previously along the right side of the page, now span the full width of the text column and include a snippet of the of the post text. While you may have seen a few messy looking posts today, as with many features we launch, users and our editors will experiment with the new options and layouts should improve. As with ad units, the goal was to prevent secondary content from pushing into the post text column.
We also made a few updates to text annotation design too (available on Jalopnik.com and the Features Kinja). Annotations are now displayed as "footnote" numbers following the paragraph that was annotated. Previously, annotations were displayed like related stories - as 300px wide blocks that jutted into the text area.
Let us know what you think about the changes!